Flexible travel
Tell us where you'd like to fly
Explore all the possibilities the world has to offer with the flexibility of private jet travel. Choose precisely when you'd like to fly and select your departure and destination airports, anywhere within or outside our route network.
The Emirates Executive jet can fly up to eight hours non-stop*, which means you can be at breakfast in the Middle East, attend to business mid-flight and be in Europe in time for dinner. Reach destinations even further around the world when you include a stopover. Enjoy the convenience of exclusive travel and arrange your flights to suit your schedule, whether you're travelling for business or on a leisure trip. Explore our range map to find inspiration for your next destination.
*Subject to your requirements and weather conditions
Fine Dining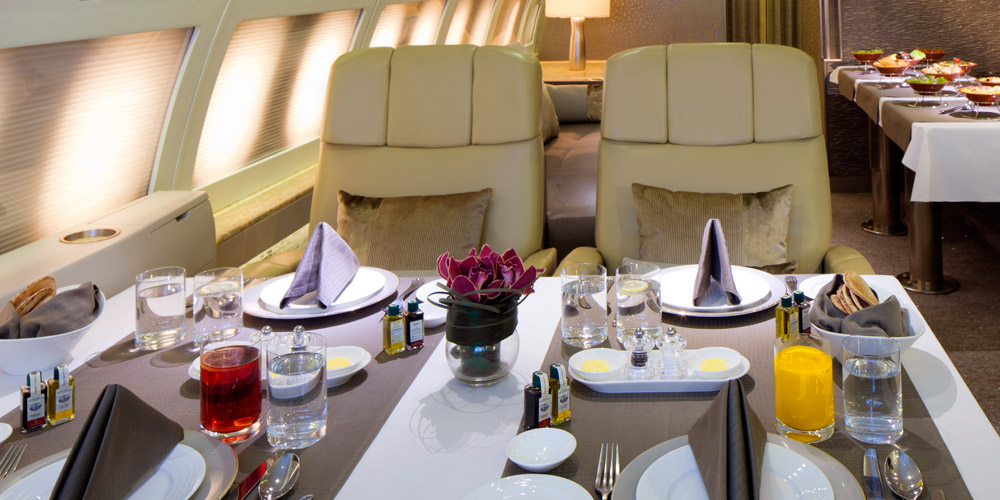 Tailored to your taste
Our private jet service is personalised for you, right down to creating your perfect menu. Enjoy delicious gourmet cuisine to suit your specific tastes and the way you'd like to dine. Customise your living space for an intimate dinner, a banquet-style buffet or a business lunch, or relax in comfort over light bites and a range of select refreshments. Our exceptional service is at your convenience whenever you'd like to dine.
Find out more about the sumptuous dining options you can enjoy on your exclusive flight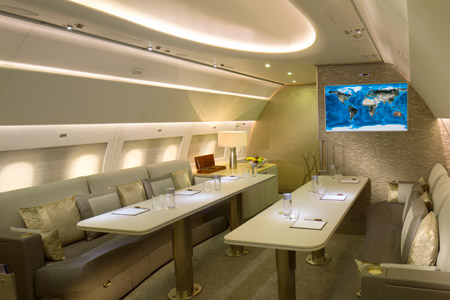 Interior configurations
Customise your living space
Whether you're travelling for business, pleasure or a combination of the two, you can convert your living area to meet your specific requirements during flight. Choose between interior configurations including a conference table to conduct important business meetings or your own private restaurant. Relax in a spacious and comfortable lounge or convert the seating into beds sleeping up to five guests, in addition to the ten Private Suites. View the configurations our Executive cabin crew can create for you.
Personal Service
Let us take care of you From exclusive treatment at the airport to our luxury Chauffeur-drive service, enjoy a seamless personal travel experience from your door to your final destination. We make your journey effortless, so you can focus on what's important to you.
Ultimate Comfort
Arrive refreshed and relaxedSit back and relax as we take you on the ultimate exclusive flight. Luxury interiors, personal service and attention to the finer details place your comfort as our top priority and ensure you arrive at your destination feeling refreshed.