Private Suites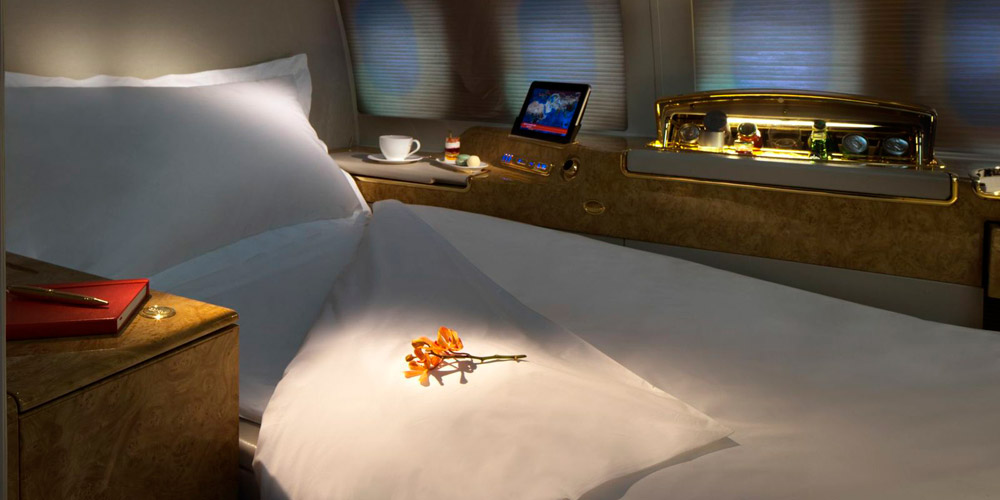 Personal space to relax
Retreat into your own world in one of ten Private Suites, larger than those in our premium First Class cabins. Slide the privacy doors closed and relax on fully flat-bed seats, surrounded by the comforts of a visitor's seat, ambient lighting, mini-bar and a personal 32 inch screen for your in-flight entertainment. Enjoy personal service to your Private Suite or stretch out to sleep with feather pillows and duvet and arrive at your destination feeling rested and refreshed.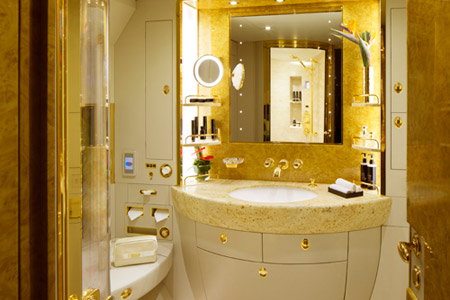 Shower spa
Take time to unwind
Rejuvenate mid-flight in the luxury Shower Spa and separate powder room. Finished in classic walnut and marble and stocked with fine linens, take some time to slow down the pace and indulge yourself. Soft bath robes and a range of Sodashi luxury spa products are the perfect comforts to help you arrive refreshed and ready to take on the day.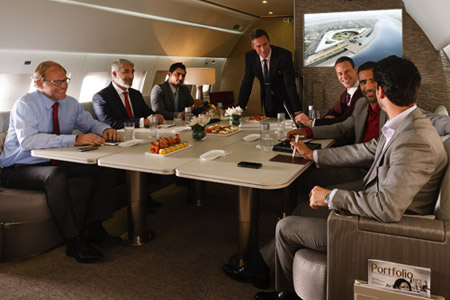 Customised lounge
Designed to your requirements
Customise your living space to suit your precise needs during flight, whether you're travelling for business or with your family on a leisure trip. An expansive lounge area can be arranged as your own private restaurant, your personal board room for conferences and meetings, or simply to relax in. The lounge sofas also convert into full-sized beds sleeping five guests, in addition to the ten Private Suites. View the interior configurations you can enjoy on your private flight.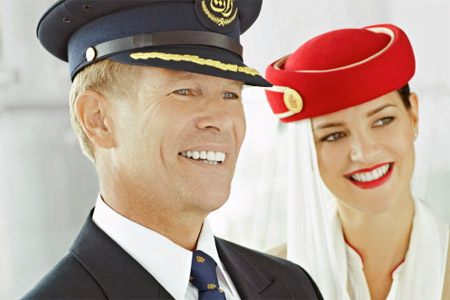 Personal service
Your dedicated crew
With Emirates Executive, you have the highest standard of our world-class service on your private flight. Our multilingual Executive cabin crew are available at your convenience, whether you'd like a drink, to dine or to arrange your living space. You comfort is our priority, so you can simply relax and enjoy your exclusive flight.
Inflight entertainment
Explore a world of entertainment
Relax and enjoy up to 1,600 channels of on-demand entertainment on our award-winning system, ice. From old time classics to the latest blockbusters, watch movies and TV programmes from around the world in over 25 languages, alongside a wide range of music and games. A personal 32 inch screen is in every Private Suite, or watch with friends and family in the comfort of the lounge. Keep up with live news and top international sporting events, or plug in your iPod to listen to your personal music. Wi-Fi, mobile services and state-of-the-art video conferencing lets you stay connected with people on the ground or when business can't wait.
Fine Dining
Convenient luxury airport transfers Savour sumptuous fine dining, entertain friends or colleagues with a banquet-style buffet or a business lunch - enjoy gourmet meals made using the freshest ingredients and create a menu tailored to your personal taste.
Business
Your personal board room Attend to business on the move using the latest technology to stay in touch with the world. Let us convert your living space into your own personal board room to keep up with business as you fly.